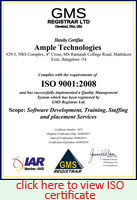 In the world of changing technology, Ample Technologies has mission to make a difference in the fastest growing software industry. We opened our doors to the world with the primary goal of providing solutions to all small - to medium - to large businesses. We place special emphasis in providing industry-wide solutions to the problems that our clients encounter. We have the dedication, resources and the stability to maintain long term business relationships in the prosperous years to come. We distinguish ourselves from our competitors strictly on the basis of technical expertise and high quality project execution. This focused approach makes us a pioneer in the field of providing "Business Solutions".
Companies that can deliver goods and services faster without sacrificing quality generally have advantages over their competitors. When the difference between success and failure is speed with quality, we at Ample Technologies provide the competitive edge. We execute all projects and provide services to the clients in a large gamut of applications that require specific skills. These applications will be on a "state of the art" technology basis. We also act as the subcontractors for the prime contractors.
What makes us the best choice of solution provider for you? With our office situated in Bangalore, the software hub of India, we are poised to develop with our customers needs, be it client-server applications, full e-commerce system setup for large corporations, CRM, internet or intranet applications, web design and development and more.
---
our vision

We believe in mutual faith between our customers and works for our customer's profitability. We respect the sentiments of the young aspirants and provide an opportunity to quench their thirst for growth.